Dear reader, I hope you're joyful and life is treating you well. I took a long break from creating because I needed to reach some career milestones (I'm a chartered accountant now) and focus on other ventures but I'm back and looking forward to writing again.
This post is about my solo trip to Dubai and I wrote about it in January 2021. I have not changed the timings to reflect the fact that we're in 2022 so please read this post from a 2021 point of view (POV).
In January 2021 I flew out to the Arabian oasis of Dubai, alone. You may be thinking, 'Sarah, why did you decide to travel alone in a pandemic? Why Dubai? How was it? Would you go again? Is Dubai safe?" I'll answer all questions in this post.
I decided to travel because I had, had, enough and I chose Dubai because it's sunny and has a low crime rate.
Why did you travel alone?
I travelled alone because I needed the sun and if I spent my life waiting for others, I would be waiting forever.
This trip was different from my other solo trips because I finally did a long haul flight alone. I have wanted to travel to to Dubai since 2016 and finally took the plunge because it was on the travel corridor. My travelling was very last minute, I booked the flight at 8pm on New Year's Day and flew out at 7pm the next day and had to buy dirhams at the airport. My friends were surprised by my spontaneity: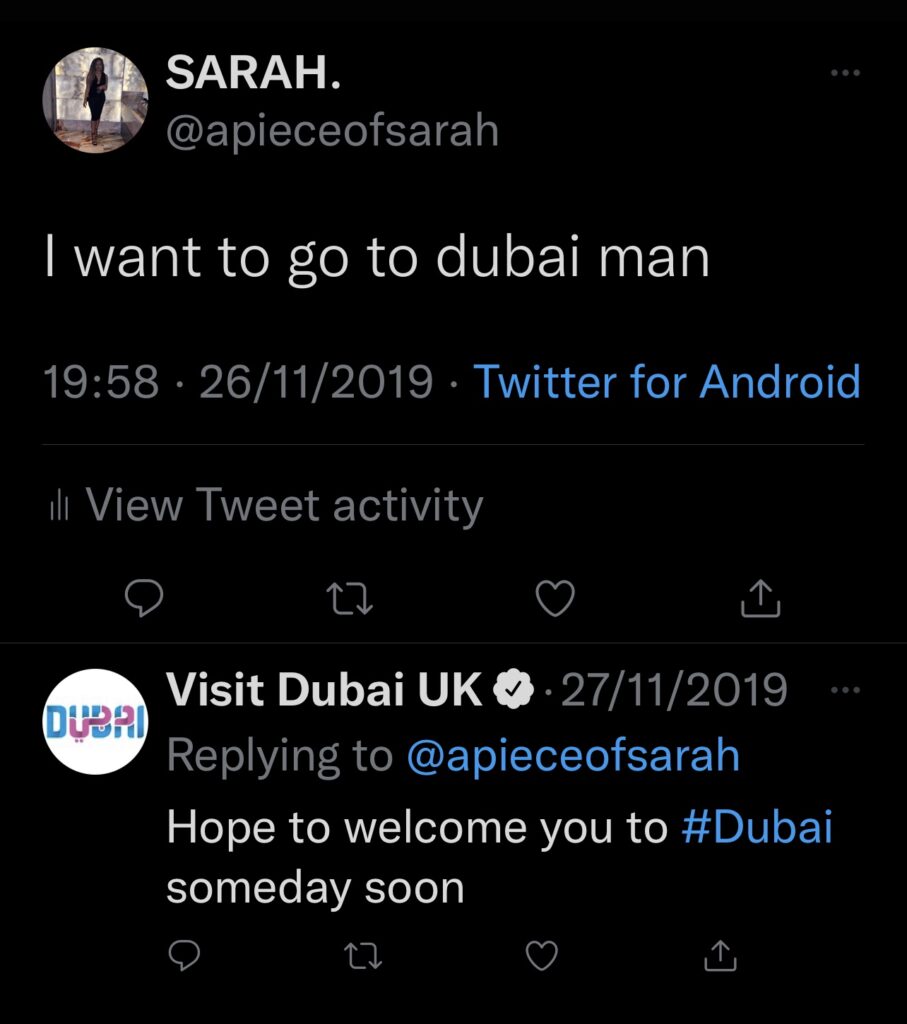 I followed Char – the founder of the excellent travel and lifestyle blog Memoirs & Musings' who has been to Dubai several times and spent the second lockdown in Dubai.
So how do you travel during a pandemic? Right answer – you don't. The alternative answer – you get a COVID test, confirm your results are negative, and find direct flights within 72 hours of taking the test and you get out of there. Different countries have different rules so use gov.uk.
Solo Traveling vs Where the money resides:
Solo Sarah and Group travel Sarah are two different people.
Group Travel Sarah will sit anywhere but near the toilets.
Solo travel Sarah is the Queen of treating herself because comfort and convenience is key.
Due to the above and the pandemic I decided to fly British Airways Premium Economy. I thoroughly enjoyed the upgrade because I had front row seats, extra leg room, checked in two bags and had a spare seat between me and the young family sitting next to me – by the way, babies don't cry in premium economy (lol just kidding, but the newborn next to me didn't cry).
Benefits of solo travel:
It's nice to spend some time alone to think.
Independence is a great thing
I don't have to consider anyone else's feelings before I do something, I can also sleep whenever.
Disadvantages of solo travel:
You have to pay for everything yourself
It can get lonely – I facetimed/called my mum and three of my closest friends during the trip
You have to depend on others for pictures.
I was so happy, I could have cried when I landed. It only took me 25 minutes to go through immigration and pick up my luggage and get into my transfer which I booked through the hotel. My transfer costs 250 AED = £50 at the time of travel, £1 = 5AED.
The easiest way to describe Dubai is, it's like Canary Wharf but with beaches, hot weather and everything is grand. There are skyscrapers everywhere, it felt very corporate and extremely safe, one of my friends asked me 'where do the locals live?' and if I'm being honest, I don't know unless they're in the apartments.***
I stayed at the Taj Jumeirah Lakes Towers Hotel which is located in the Jumeriah Lake Towers District of Dubai. It's a 5 star hotel, with a rooftop pool, two restaurants and a fitness centre.
Time to locations:
It's a 10 min drive to the Dubai Marina – which includes the marina mall and Azure Beach club/RIXOS/STK
15 mins drive from Atlantis the palm – White beach club
20 mins drive from the Dubai mall/the Burj Khalifa
10 mins from the Mall of Emirates
24 mins from Dubai International Airport.
8 min walk to the metro station
Pros:
Customer service was brilliant, nothing was an issue for them.
The hotel room decor was lovely, I had a marble and hot tub with a shower and toilet.
All the staff from the concierge to the front desk staff were lovely.
The hotel was cost-effective, as all the beach hotels were £1.5k and up
Cons:
It wasn't a beachfront hotel.
I didn't like the breakfast enough to pay 75 AED a day. The eggs and croissant were really nice, pancakes tasted shop-bought.
The roof is quite small, which limits sunbathing depending what time of the year you go.
It felt a bit tedious paying for cabs all the time but I made the sacrifice since I was alone.
What I did in Dubai:
Day 1: I arrived in Dubai at 6:20am, my transfer picked me up and we headed to the hotel. I started looking for where to get my brows, hands and feet done as the UK were in lockdown, again. I went to N Style Lounge in the Dubai Marina Mall and did my brows and had the pedicure of a lifetime. One thing I realised about Dubai is everything takes time which is part of the reason everything is so expensive. I fell asleep whilst getting my pedicure and the lady was still doing my cuticles. After that, I bought some five guys and went back to my hotel and slept.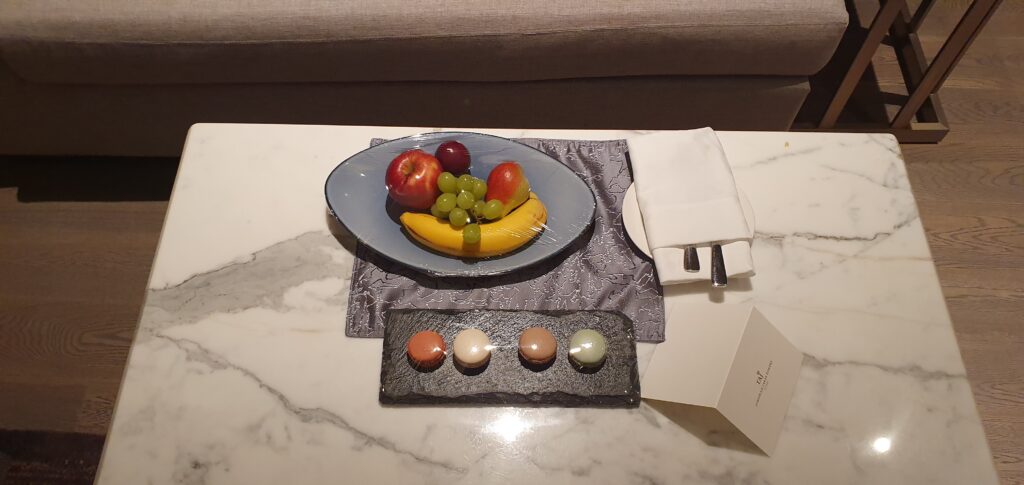 Day 2: I went to the hotel roof, which was quite small but I could see the Burj Khalifa, the Burj Al Arab, Five Palm etc in the distance when squinting. Later on, I went to the Citadel Tower and did my nails at Tag Beauty. I chose Tag Beauty because they had loads of photos on Instagram. Nails in Dubai are expensive, most places were the same price, I paid £77 for a full set Ombre. Anyway, my nails were pretty and the service was lovely but one broke on my last night in Dubai (so I still prefer my local nail shop). After doing my nails I did some shopping at the Dubai mall and went on a boat ride to watch the Dubai fountain show.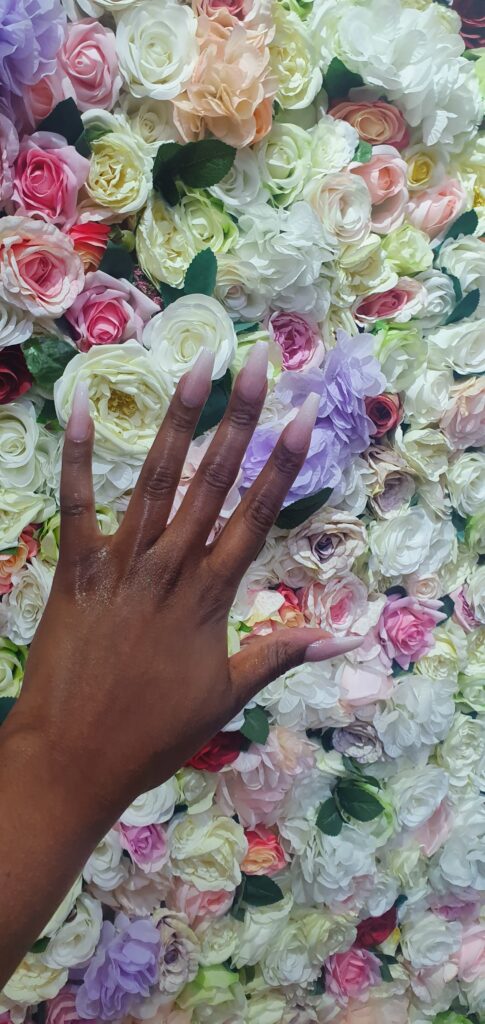 Day 3: I watched the sunset at the Burj Khalifa. Burj means Tower, so Burj Khalifa means Tower Khalifa. The Burj Khalifa is very impressive but expensive. I paid £100 to access level 148, 125 and 126 and have a Virtual Reality (VR) experience. The VR experience was so cool, I climbed up the Burj Khalifa and jumped off with a parachute and landed in one piece (virtually).
Pictures are £70 per picture if you let their professional photographer take one of you, I opted for it because I needed at least one nice photo. I think everyone should go to the Burj Khalifa at least once. Afterwards I ate at red lobster and then did some shopping as the Dubai mall closes at 12 am.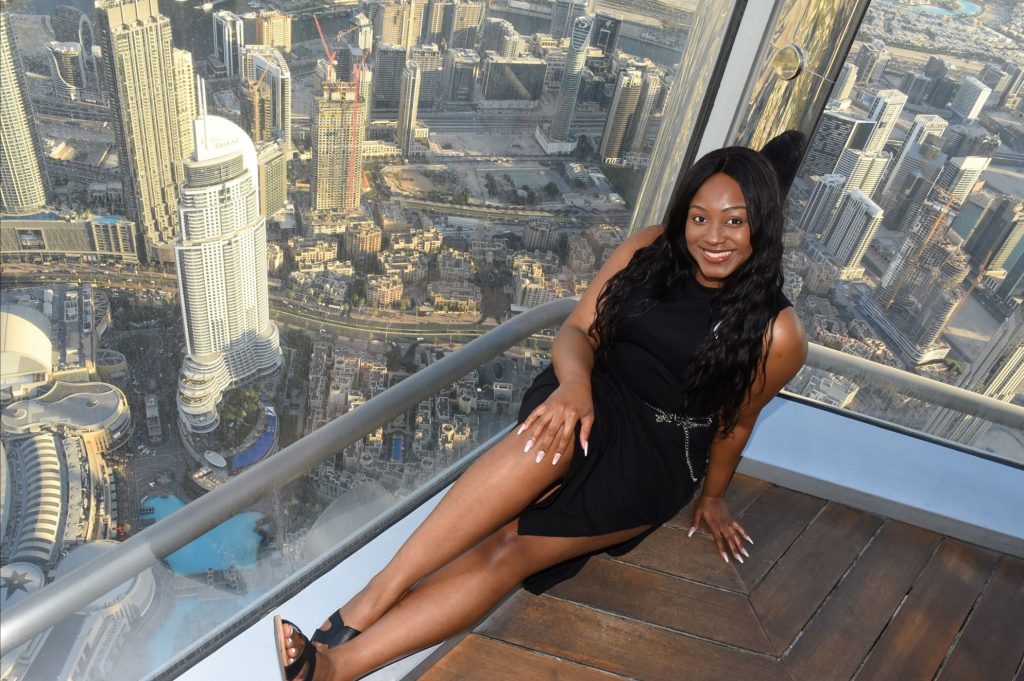 Day 4: I tried to get in to Azure but they were at full capacity so I went to Wave Breaker at the Hilton for 99AED – £20 then I went back to my hotel and watched Escape plan with Arnold Schwarzenegger and Sylvester Stallone. If I had researched more, I would have tried to go to Nammos or White Beach as WaveBreaker is a family oritentated beach club.
Day 5/6: I worked for two days at my hotel, went to Stallone's for dinner and met up a few friends at STK and it just reminded me of normal times. STK is such a vibe.
Day 7: At 8 am I got a Covid test at the America hospital – Media City, I was done in 45mins but had to go back because I forgot my passport. The results came back negative in 10 hours for 150 AED = £30 compared to £120 in the UK. I then went to Azure Beach Club and the Dubai mall. I bought some ouds from Swiss Arabian.
As I walked towards the Dubai Mall Fashion avenue exit, I heard a huge crash. I thought a child knocked over something but it was actually something from the roof at Massimo Dutti falling. People went closer to the store to check if others were ok and the store shutters came down but I decided to leave. In times of calamity, I leave swiftly, I'm not a hero, I don't like pain and I'm not one of those people in films who waits until danger is in front of them before they leave. I believe everyone involved was fine, I looked for information on google and twitter and found nothing.
I went back to the hotel then to Enish with friends but I was so tired.
Day 8: I went to White Beach which had the best vibe out of all the beach clubs and I met some lovely people, we then went to wave house . White beach is 21+ beach club, entry was 150 AED which was fully redeemable against food. Afterwards, I packed, sent a few work emails and had a long bubble bath before leaving for the airport a few hours later.
Profound moments
One of my favourite parts of the trip was finally reading the November Edition of Vogue with Beyoncé at Wave Breaker, The interview was so profound and my favourite quote 'I came into this industry at 15 and grew up with the world watching, and now I have put out projects non-stop. Now, I have given myself permission to focus on my joy." this struck me because I went on this trip for ME, to focus on MY JOY. I felt like 2020 was a waste of my life, time and happiness, now the pandemic isn't changing anytime soon and I've had this reset, I'm ready to take back control and tackle 2021. Additionally, I was really proud of myself for going on this trip alone.
Things to note about Dubai:
Dubai is expensive. Part of this is because I went alone all my uber journeys added up. In general, I spent £150 – £200 a day – I spent the most at the Burj Khalifa but they gave me a free photo booklet, poster and statue (I think).
Security is everywhere, which is helpful and scary but helpful
Dubai is very organised.
Customer service is excellent (overall, I had no issues).
Many skyscrapers are built by EMARR – the construction company who also built the Burj Khalifa
It's best to book a transfer to your hotel when you arrive so you don't end up being overwhelmed when you arrive
Got2B and hair gel is not sold in Dubai
Some beach clubs and restaurants have Ladies day where women get in for free, have cheaper entry, get free/discounts on drinks and food so book them beforehand and plan your time well.
I went to 3 malls in Dubai, the Dubai Mall, Mall of Emirates and Dubai Marina Mall. The Dubai Mall is the best, it's like Westfield White City but much better.
Law and Order
Dubai has different laws to the UK, don't get thrown into jail.
Dubai has also come under scrutiny for many things:
Dubai is an Muslim country, meaning it's quite conservative
Bounced checks and non payments can lead to imprisonment
Possession of drugs or having the presence of a drug in your blood streams will lead to imprisonment or potentially death. Hemp & CBD is seen as a drug, don't get sent to jail because of your body shop lip balm or vape pen.
Swearing is illegal.
You can't take pics of people without their consent – it's illegal.
Sex outside of marriage and homosexuality is illegal
Would I travel to Dubai solo again?
I would definitely go again, but I would prefer to go with a friend though for great company, pics and to party. I think the places to stay are Dubai Marina and the Palm.
My favorite shops:
I love Bath and Body Works wholeheartedly because the creams are so smooth and smell so nice, I love the thousand wishes cream and sunset glow spray. Sunset Glow reminds me of Sol de Janerio Cheirosa 62 Mist.
I bought 3 ouds from Swiss Arabian – Shaghaf Oud, WAJD and Shaghaf Oud Aswad the service was fantastic, the shop assistant was very patient with me which I appreciated and I received a free perfume 🥳. Generally, I swap between Shaghaf Oud, and WAJD regularly because they both smell expensive – Alexa play 'Whole Lotta Money by Bia'. Shaghaf Oud is very intense, so you only need one spray and it smells like vanilla, safforn, and money, Wadj has a more floral smell due to the turkish Rose, Shaghaf Oud Aswad, smells like incense.**
Nandos – I had some takeaway nandos from the Mall of Emirates it was so juicy, UK Nandos is dry.
Safety as a Woman, unfortunately, as a Woman I had to take extra precautions for my own safety (yay):
I didn't go to shady places at night, I only was out at Enish, STK and the dubai mall,
I was hyper-vigilant and aware of my surroundings at all times, if I thought someone was following me, I changed routes and I asked for directions to security people and workers.
I never left the hotel without my portable charger. I highly recommend you invest in this Anker one because I swear by it. I take this charger on holidays and other long journeys and have been a customer since 2018 and it's never failed me.
I kept my bag on me at all times and I did not leave it anywhere
When I asked other people to take pics of me, I asked other tourists in closed areas such as Burj Khalifa and White Beach Club
I wore relatively conservative clothes.
I looked at the laws and regulations in Dubai.
I took ubers, only.
I didn't post in real time because I did not want to be tracked
A trusted loved one knew my plans at all times.
Last thoughts:
Overall, I recommend Dubai because it has sun, sea, great food, malls and beaches and I felt extremely safe. I would definitely go back again but preferably with friends and I don't regret travelling because I needed it. *
*I wrote this post in early 2021 on the plane home, since then I've been back to Dubai with my friend and I loved it. For my second trip we stayed at The First Collection Jumeriah Village Circle and would go back in a heart beat. Excellent value for money, the hotel has a larger rooftop sunbathing space, two restaurants, massage room and a rooftop bar

**Since writing this, Swiss Arabian Shagaf Oud has gone viral (more than once) on tiktok. It smells similar to Lancôme Oud Bouquet for a quarter of the price. Wadj is one of the best smelling perfume ever. I always get complimented by strangers.

*** Locals probably live in the skyscrapers, Jumeriah Village Circle or old Dubai or damac hills